Couple / Family Therapy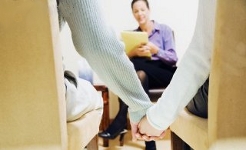 Are your spouse's and your needs being met on a consistent basis?
DR. BERMAN PROVIDES COUPLES AND FAMILIES PSYCHOLOGICAL SERVICES FOR:
Conflict?
Arguing?
Infidelity?
Feeling distant?
In-law issues?
Parenting conflicts?
Arguments about money?
Communication problems?
Dr. Berman has over 20 years of experience as a marriage and family therapist, and she can help you to have a happy satisfying couple and/or family life.  Her goal as a psychologist is to enable families to stay together and achieve healthy relationships.
Divorce and Separation
If couples have decided to divorce or separate, Dr. Berman can help to ease the difficulties of coping with change for both the couple and any children and family members who are involved. She can help you to manage any conflict in a constructive way during a difficult time.